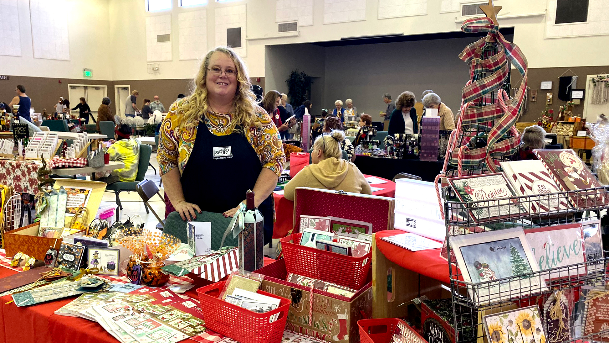 ---
I have been married for 30 years to the same wonderful man, my husband Craig. We have one son who is a Senior in High School and keeps us on constantly on our toes! I currently work full time for a local school district as the Computer Tech at an elementary school, which I love, but my background is in photography and graphic design. That is why crafting and stamping is such a perfect fit for me, I love to share my artistic talents and to craft with friends!

I started with Stampin' Up! in 2016 with the intention of having fun classes and get togethers to make cards with friends. Kind of like the Paint nights that are so popular, but with stamping instead. I also enjoy sharing my creations at local craft shows, and creating personalized cards for my customers. It is bringing me alot of happiness and so many new friends!

Originally my sister Eileen, got me interested in Stampin' Up! In fact, she is my direct upline, and we enjoy working together often, and traveling to the yearly OnStage events for Stampin' Up! Demonstrators with our teams, bringing back the newest techniques and information about our fantastic company's products.

My hope, as we enter this new decade, is to expand my small business and take it to the next level. I would love to have new friends interested in crafting and be thrilled to meet you, no matter if you are just looking for a place to purchase Stampin' Up! products, would like to come craft with me at my events, Host a party, or join my team! Id love to hear from you!